a pig style classic longboard for…yes you guessed it: NOSERIDING.
Superfortress Mod noserider in custom resin art
Slide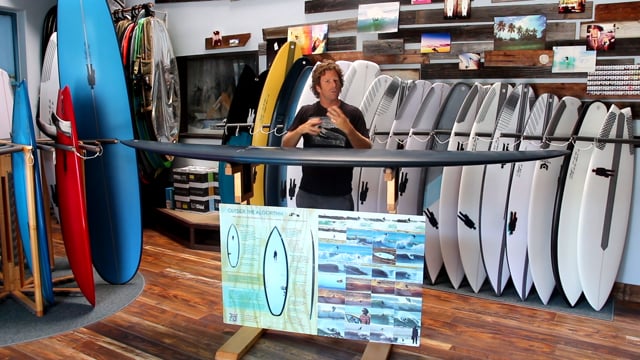 superfortress mod resin tint
superfortress-mod-shaping-room
larry-noseride
Larry Ugale | Ventura, CA | 9'6" x 24" x 3" 84L
superfortress-mod-grey-tan-free-lap
superfortress-mod-grey-tan
all boards can be completely customized during custom order process
construction options & pricing
Today's storyboard: This is Bryan from Ventura. A photo taken a few days ago. We are standing in the CNC machine room at the factory because that is where Bryan used to work. Our history goes way back to when over a decade ago he ran the machine. He was a high school grom back then and a real fun kid to banter random funny stuff with throughout the day to keep the mood lighthearted as we toiled on boards. Something about this machine however, was that during that season it would break down all the time...like ALL the time. We'd constantly be pulling it apart, pieces laying around everywhere like a couple mechanics working on an old vw or something. It would be a real stresser...on me...on Bryan...on the entire flow of the factory. We've laughed, we've cried...and back in the day we pulled apart and fixed and jimmy rigged and improvised and prayed with that machine...because it literally was our livelihood. Well, we always managed to get her back running and the boards kept getting built even though tempers would sometimes flare and get the better of us (usually me), but Bryan was always a trooper. And during that same time my dad died unexpectedly and it was hard to feel like there was any purpose in the work of our hands, but Bryan was one of those good friends who encouraged me and one of those employees who kept the faith and did what he could do in the workplace to keep things moving during that darkest time of my life. So here Bryan is today. He came by to get a new 9'6" #Superfortressmod a classic log for the point. He's done good. He's married with a new little baby, and he's doing life the right way. One day at a time and on purpose. We are proud of the man you've become friend! ...and the machine, well the machine after having fixed and replaced just about every part on it, it now runs (most of the time) like a dream. Turns out it had needed a special grounding wire to handle the weird electrical spikes that happen in Ventura. God used that machine to test our metal, and grow us as people that know how to weather life's inconveniences and frustrations, and to come out the other side as more patient humbler kinder people.
a classic Australian points style trim speed glider with 50/50 rails and a pulled back outline for pivot in turns. I've taken the exact rocker and bottom from the beloved #Superfortresssurfboard and simply changed up the outline (see slide #3). This allows for a noserider that knifes down the center of the curl for lift down the line as opposed to the more 'on top' of the curl glide of the traditional #superfortresssurfboard Another approach to an historical tip time line. This one has a midnight slate gray bottom free-lap tint with mottled African clay beige deck tint. 9'4" x 23" x 2 7/8"
[instagram-feed type=user user=proctor_surfboards includewords="#superfortressmod" nummobile=3]